Apostle D.L. Rogers
Apostle D.L.Rogers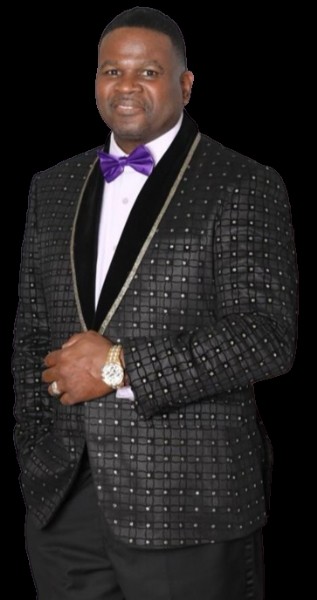 Born
Apostle D. L. Rogers, PhD. was born May 26, 1965 to the late, Elder Bill and Evangelist Lessie Rogers of Thompson, Georgia. Following in his father's footsteps, he was destined to preach and teach the gospel as well.
He received Christ as his personal Lord and Savior under the leadership of the late Apostle J. P. Minter, where he served under his direction for several years. His training under the late Apostle Minter took him on the evangelistic field opening many doors of ministry opportunities. Bishop Rogers took a strong stand in God's word and wad determined to be a faithful servant of God.
Leaving the Atlanta Community Church in 1988, Bishop Rogers began full-time missions in evangelism. The nurturing years allowed God to perfect his gift in preaching the gospel as well show increase in every area of his life. Bishop knew that in order to walk upon high places, he would go through many wilderness and desert experiences. Nevertheless, God prepared and sustained him to stand firm through his trials.
Family
While giving glory to God for all He has done in his life, Bishop found the apple of his eye. In 1991 he united in holy matrimony with the anointed and beautiful woman of his dreams, Ms. Melanie Burley. Bishop is the father of three wonderful children, Lakeshia, Dontavious and Joshua.
Early Ministry
In 1992, God led him to start Christian Outreach Evangelistic Church in the home of offered by Mrs. Zenobia Coleman as a temporary place of worship. However, this was only a short time .Bishop later met Pastor B.C. Robbins who opened her home to the COEC Ministry.
After six months at this location, God instructed Bishop to "enlarge the tents" and with only 20 members his searched led him to 6944 Highway 85, Suite P in Riverdale, Georgia. At this location many auxiliaries were birthed which includes. COCE Mass choir, usher board, and youth ministry. God continued to bless, and bring about an increase leading Bishop to purchase 7.5 acres, which is our present location, 6120 Hwy 85 in Riverdale. Inclusive to the church, God blessed First Lady Rogers to move her in-home daycare to Christian Outreach which has truly been a blessing. The Center is opened daily meeting the needs of infants, toddlers, pre-school children along with a before and after-school program.
In 2000, Bishop Rogers accepted his calling in the office as Bishop and became overseer to two churches; The House of the Anointing under leadership of Pastor Poole and Raising the Standard Ministry under the leadership of Pastor Boykins located in Cedartown, Georgia.
The firm teachings and guidance of Bishop Rogers helped both ministries flourish.
Busniess Entrepreneur
Not only is he an awesome man of God, Bishop Rogers is also the owner of COEC Enterprise, Inc., a general construction firm. His knowledge in carpentry along with his expertise in working with a wide range of construction materials, allowed each phase of our renovation process to be huge success.
Community Outreach
Apostle Rogers' passion for community involvement and development allowed him to form the Outreach Cowboys Football and Cheerleading League in 2009. Given the challenges faced by our young people, the league offers an alternative to negative stereotypes that plague our community. The program offers condition and training, tutoring, and mentoring service. Bishop Rogers' destined the program to "be like no other"…. And that's exactly what it has become. From its inception, the program has been highly successful, winning the Super Bowl for two consecutive years. As we continue to reach out into the community, our motto is community + church = change.
Bishop D.L. Rogers, PhD. received his Honorary Doctorate of Divinity in January, 2013 from Saint Thomas Bible College in Jacksonville, Florida. In 2014, hs expanded his ministry to the Nations and began ministering in Johannesburg, South Africa. As an international speaker and teacher, Dr. Rogers has spread the gospel to over fourteen countries.
Dr. Rogers, currently serves as the president of Bridging the Gap Pastors Association. The association offers pastors aspiration as well as opportunities to reflect and recharge. It also provide many important resources, and can assist pastors in keeping up with the cutting edge ministry details.
Future Vision
As we continue to move forward in our amazing ministry aspects, our future goals include our educational wing, which will educate our children and employ members within the ministry. In addition, our dream center will be birthed, which will include both football and soccer fields, along with a gymnasium. As a result, we will continue to mentor boys and girls of all ages and develop distinguished men and women of God.